C 0 G I T 0 _ E R G 0 _ B 0 0 M
A Heuristic for Sophia

"The passage tries to explain 'how the human intellect passes from it's original state, in which it does not think, to a subsequent state, in which it does'." - Davidson, Herbert describing a passage from the translation of Aristotle's De Anima by Joe Sachs in his book Alfarabi, Avicenna, and Averroes, on Intellect (1992).

Cogito Ergo Boom is a 15 minute piece that takes place in the mind of a lone researcher, up late into the night making progress and then finding that there is even more progress to be made. It centers around a primordial figure, a likeness for "Thought" and a box that "Thought" rummages through.

The most recent draft of COGITO ERGO BOOM (now subtitled: A Heuristic for Sophia) was performed at Bizzare Bar in Bushwick, NYC at an event curated by Undiscovered Countries in April 2015. The sound was a combination of Sylvia Plath's self-read poem "The Applicant", sound from Daphne Oram, and the track "Empyreal Embryo" by Randall Leong from DREAMLIFE OF THE SLEEPLESS. Also added in this draft was the lone researcher, milling about the pixels of an indecipherable image, projected behind the "Thought" likeness. The lone researcher was played by Scears Lee, who also helped as an outside eye on this rendition. Pictures Below: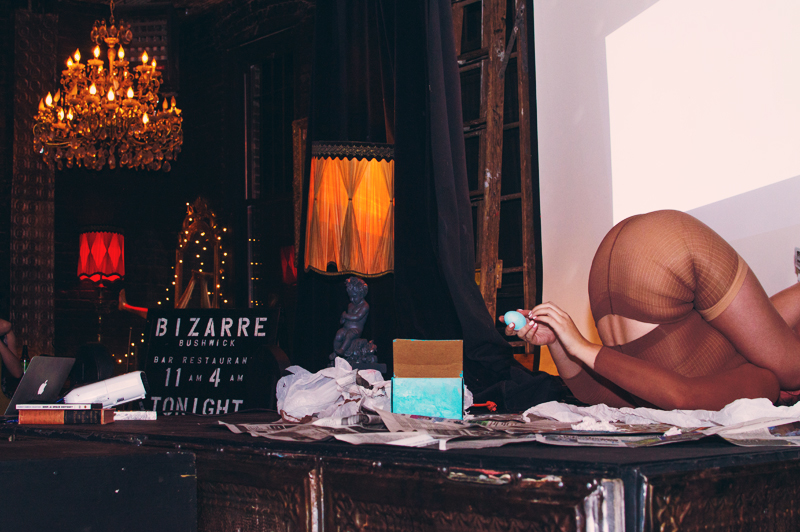 Photos by Elizabeth Rogers

HISTORY

COGITO is a project that I started in my "Creating Original Work" Class at Playwrights Horizons Theatre School and performed for the first time at the Spring 2013 Cowapalooza. The original piece was 10 minutes long. Two subsequent drafts of the original were performed at the Weirdwick Twee in April 2013 at the Bohemian Grove* and at the second New Skin for the Old Ceremony at Cloud City**, both in Brooklyn. Although Cogito's official birth was in the C.O.W class, it's roots were in a 3 minute final project for Ximena Garnica's Butoh Class at PHTS.

The performance itself is based in butoh but I would like to officially categorize it as a living sculpture. The performance itself needs no more than a 5'x5' playing space and is performed as a sort of jack-in-the-box of the human body, with an audio landscape accompaniment.
*Weirdwick Twee was curated by Jen Plaskowitz
**New Skin for the Old Ceremony was curated by Ben Gansky.
***The Audio Landscape was composed using sound clips from 2001 Space Odyssey, Pink Floyd's "Time" and Daphne Oram's "The Birth of the Baby".

~Notes on Cogito Ergo Boom~

PRODUCTION MATERIALS from Spring 2013 NYU Showing:

ELIANA MULLINS as THE THING
Collaborator: Javier Perez as Movement Coach
COW Title: COGITO ERGO BOOM
TECHNCIAL MATERIALs: Sound system, lights
MY MATERIALS: hosiery suit (4 pieces), nude undergarments, tentacles, pillow w/ stuffing, shredded pillow, five eggs empty, one egg full, lysol wipes.


primordial darkness. something is eating or being eaten. dawn. light. a creature finishes it's meal and quickly sends out feelers to find another. the feelers detect there is another meal close by. the feet wake up and the creature emerges from it's stationary state into a traveling state, hungrily making it's way towards another meal. the creature finds the meal, it stops, preparing itself for food, then folds back into a stationary state. not shortly after the feelers emerge again, hungrily tearing into the food and devouring the substance and seeds inside. one seed, two seeds, three seeds, four seeds, five seeds are cracked and eaten. the feelers reach in for the sixth seed and upon contact pauses... this is something different about this seed, it feels...like there is something inside of it. the feelers inspect it, shake it, then begin trying to get at what's inside, trying to pry it open any way possible, becoming more and more obsessed with cracking this code and then-- it does, crack. and something, some inert life force seeps out of it, and the creature is puzzled and confused and a horrible, incomprehensible and sinister feeling creeps over the creature that it cannot figure out, but it feels like it has done something terribly wrong and then-- a force rips through the creature and forces it vertical, an overpowering force both majestical and frightening at the same time. the creature tries to grasp at this thing but it cannot keep it, it does not have the capacity to keep it, the force is too much for the creature and the creature collapses, back into it's stationary state, unsure if it is alive or not.

run script:
lights_blackout
play_sound_draft2.mp3
_ _ @1:00min : LIGHTS UP
@9:58 LIGHTS OFF


---

PRE-PRODUCTION PERFORMANCE/STORY/ACTION FREEWRITE
this is a freewrite i did after i had created the choreography of the piece, in order to try to triangulate the story i was presenting on stage.

up legs open hands on thighs
hand comes out
knocks body over
body crawls towards egg
body changes into formless creature
arms pop out of the formless creature
descend, slowly, steadily, and carefully upon the egg
fingers touch down on the floor looking for egg
fingers find egg
begin to explore it
shake it
hear something inside
begin rotating it
trying to get inside it
scratching rubbing peeling
scratching accidentally breaks the egg
red drips out
hand gets scared and explodes egg open red splatters hands face upward shaking in horror creature flips up to standing shaking out of control limbs flapping everywhere almost like a thing trying to fly but unable to

woman on an epidural
sweat on forehead
eyes half open trying to see
can only see men in doctors clothing looking at her
poking and prodding
she feels something moving in the belly
but the thing doesn't want to come out
but there is enormous pressure
her body wants it out but it doesn't want out
induction drugs are given to induce labor
we wait we wait we wait
the thing gives up slides out
everyone around is in shock
it is an old hermetic man from the mountains with crazy hair and snaggle teeth but it also
looks like a mangy dog with rabies but it also looks like an alien sea creature and it is blue


sitting at a desk
trying to figure this all out
sitting there
sitting there
the deadlines oh the deadlines fuck the dead lines i might not make the deadlines oho
sitting
stomach pains
shoulder pains
kneck pains
head pains
idea
there is something there
what
is
that
thing
there?
it is--
OH MY GOD WHAT IS THAT THING THAT THING IS WHAT IS THAT WHAT IS THAT THING I AM NOT THINKING THAT I AM NOT THINKING THAT I AM NOT THINKING THAT THAT IS DISGUSTING WHAT IS THAT NO NO NO


---

PRE-PRODUCTION SOUND DESIGN FREEWRITE
I created the sound design for Cogito as I was choreographing the piece, trying to do both from a place of instinct rather than thought. Similar with the free write above that I did based on the action/choreography of the piece, I tried to get a better intellectual grasp on what I was doing with the sound design by free writing about it:

waves crashing
voice in and out like a wave
voices of doctors looking at a pregnant woman who is out of it because the baby hasn't come out yet
clocks ticking it should be time
SO pregnant SO ready to burst
but its a static ready to burst

a monster nightmare child crosses the mind
car door waiting signal
time by pink floyd
sinister sort of
still all the voices and crashing
disorientation


no more disorientation just waiting


ocean sounds and also air conditioning sounds or vacuum sounds?

spider legs
cogs of a clock
machines

a womans breath for the first time
vacuum sounds
air sounds
woman's breath
baby cries briefly
wave sounds
air getting sucked out or in?

woman's breath like sex or giving birth?
in or out?
with a little ticking underneath
it's time come on

slowly there is--
no sound
absolutely no sound
my heart feeling really heavy in my chest like it's falling like a stone in water towards
my stomach

a little ticking